"At the end of the day, the most overwhelming key to a child's success is the positive involvement of parents ."
Parents are the prime educators until the child starts school. Their engagement in school improves student achievement, reduces absenteeism, and restores parents' confidence in their children's education. EPSites recognizes parents as important stakeholders, to build a strong community of learners as it has always been our top priority to highlight the importance of building a parent-school partnership in the process of student learning.
Thus to increase parent participation in their child's formal education life, a Parent Orientation Programme was organized on Saturday, for EY and Grade I and Monday for Grade II to V. The aim was to familiarize the parents as 'partners in progress with the curriculum, rules, and regulations of the school, teaching methodologies and the co-scholastic activities.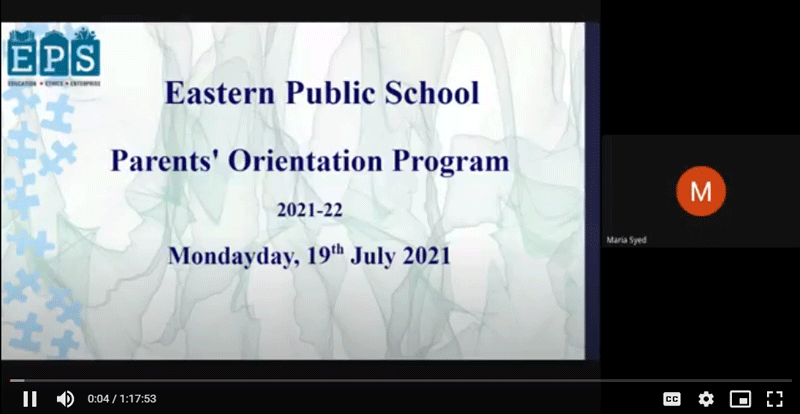 The session started with an overview of the Islamic Studies program by the Chairman of school Mansoor Durrani. He stressed the Islamic learner profiles and IB learner profiles highlighting the 'middle E' of EPS i.e. Ethics.
It was followed by the formal introduction by Junior school principal Fozia Mehfooz. The Junior School Principal talked about the bond between school and parents. She also stressed Ethics and the way we develop it among children, making them international-minded individuals.
Later, PYP coordinator Humera Riyaz briefed them about the Primary Years Programme. To make parents familiar with the school policies, its operational functioning, processes, communication systems and techniques of learning, a breakout session was conducted by Grade level coordinators and Home Room Teachers.
These interactive sessions helped parents to connect with their child's learning experiences, thereby providing an insight into their role as a parent to support their child's education. Parents reflected on the impact of teaching, learning and assessment practices implemented in school. The orientation program ended on a good note intending to grow our children into happy, skillful, and creatively well-adjusted citizens.