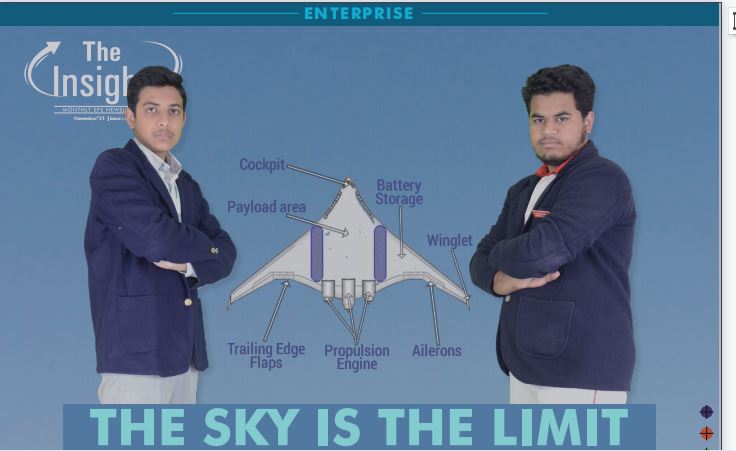 There's a better way to do it, we just have to find it. – Thomas Edison.
Grade 11 IB DP students Ayaan Ul Hasan and Muhammad Faiz Khan took part in the National Aerospace Design and Innovation Competition organized by SUPROS. The challenge was to suggest solutions to real-world problems faced by the Aviation industry and ensuring safety, environmental sustainability and coping up with the ever- increasing and diverse needs and demand in this domain.
The dynamic duo did some extensive research to understand the basics of flight and aerodynamics and about different materials, fuel sources and airplane models. They came to a firm yet challengeable conclusion that to make aviation sustainable and safer the automated electric airplanes could be a high-potential solution.
Their model would allow automating the planes to cope up with the demand of the pilots. They proposed to make the body out of carbon fibre composite materials and use solid state batteries as an alternative to jet fuel; along with many minor details about the design of the aircraft. Their final presentation was judged as the most cost-effective and greenest solution for the sustainability issues by Miss Priyanka Shrivastava, an aerospace engineer at NASA JPL.
Alhamdulillah! Their prototype bagged the Best Design and Innovation Award and fetched the brilliant team of two, a cash prize of INR 5000. The competition was a great external learning experience and gave the EPSites an opportunity to hone as well showcase their real-world problem-solving, research, thinking, communication and social skills.
EPS is grateful to Mr. Fazlur Rehman for being a successful mentor for these prodigies. His profound scientific knowledge and relentless encouragement were the guiding light on this unfamiliar and challenging path for them.