"WE MUST ACT AS IF OUR INSTITUTIONS ARE OURS TO CREATE, OUR LEARNING IS OURS TO DEFINE, THE LEADERSHIP WE SEEK IS OURS TO BECOME ."

Professional development at EPS is an ongoing process that enables the teaching teams to develop the necessary knowledge and skills they need to address students' learning and challenges.

The Professional development week was conducted in school before the beginning of the new session of 2019. Various teachers from all 3 departments shared their divergent perspectives about taking the education to a whole new level and to boost up essential IB traits amongst the pupils.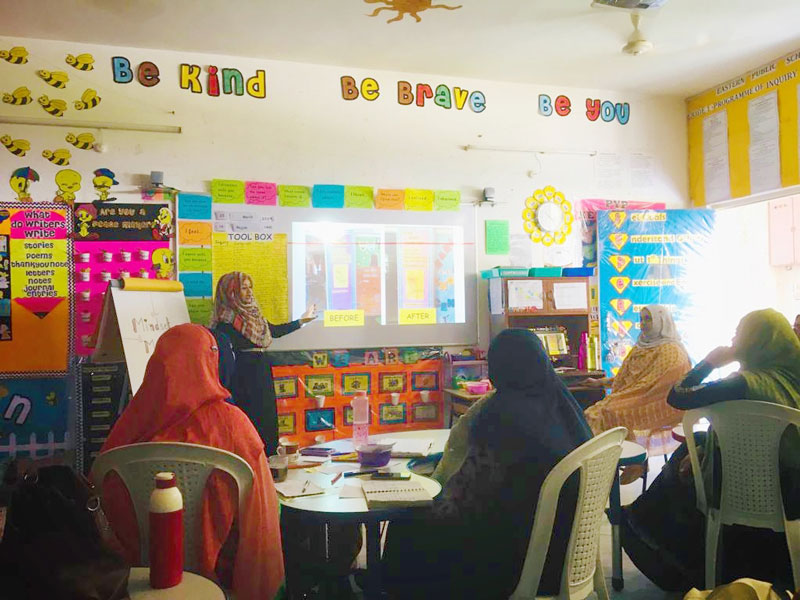 Arshi Shahab conducted a session on Building quality curriculum in MYP, Zenab Khan on Handling Difficult Kids, Saniya Naeem trained PYP teachers on Managebac, Afreen Zaheer shared best practices for Class Management, Mishkaat Khan on Decoding Documentation, Saima Arham on Making the PYP happen and Managing Managebac in EY, Fozia mehfooz- EY Coordinator on Early days in Early Years and Math in early years as her expertise. All the Educators contributed their part into making learning more effective.
The P.D sessions held this week were very helpful and beneficial for all of the teachers as the team exchanged their point of views and came across new methods of learning.