Grandparents are the family's greatest treasure, the founders of a loving legacy, The greatest storytellers, keepers of tradition and family's strong foundation. Through their special love and care, they keep a family close at heart. As a part of inquiry students of grade 1, celebrated Grandparents Day with an abundance of respect and admiration.
A special event was organized for the grandparents of grade 1 students. The programme began with a special welcome with red rose saplings presented by the kids to welcome all grandparents. Keeping up with the culture of EPS we began the event with surah recitation followed by a beautiful nasheed performance on "My Mother" showing love, respect, and importance of a mother in our lives. Many power-packed performances by the students like, Urdu skit (Dadu Ka Chashma) and a Hindi poem (Dadi Amma, Dadi Amma Maan Jaao) left the spectators spellbound and thoroughly mesmerized.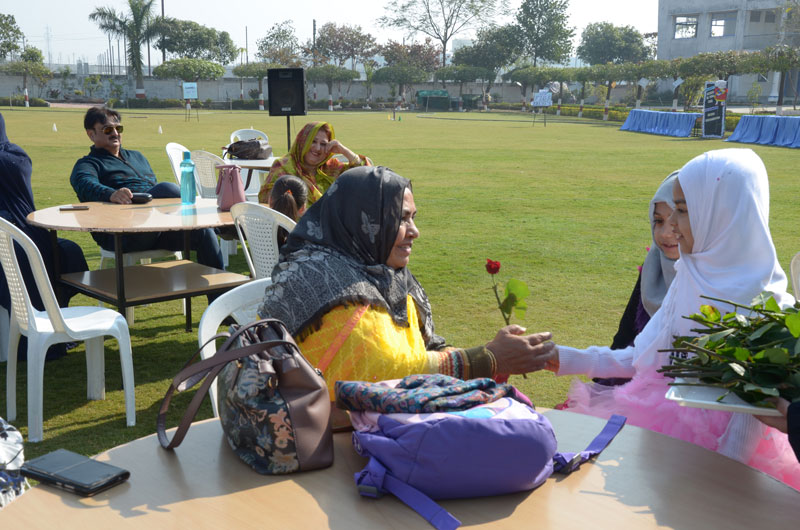 The debate on "Today's Era v/s Ancient Era" was cherry on the top. They also shared some mesmerizing moments of their childhood and relived their childhood with everyone. Wrapping up the performances our kids thanked their Grandpas and Grandmas for their love and support by their cute performance on a "Thank You Song". Some exciting games of Today's Era and Ancient Era were also organized for grandparents. After all the fun-filled performances, grandparents and children were invited to have fun on different interactive games stations. We served "Chulhe Ki Chai" to them which they loved.
Students prepared greeting cards and a photo frame for their grandparents as a token of love. The children were very excited to see their grandparents participate in the games and cheered them wholeheartedly. The grandparents were very sporty and brought out the child in them through their active participation. The fond affection for their grandchildren reflected in the very fact that they held the hands of their respective grandchild while performing some of the games. The children seemed like a motivation factor for everyone to give their best. All the games were thoughtfully planned by the teachers so as to make the special day memorable for all the grandparents. The success of the event was evident through the joyful smiles and teary eyes of the grandparents as they were overwhelmed to see their grandchildren performing for them.