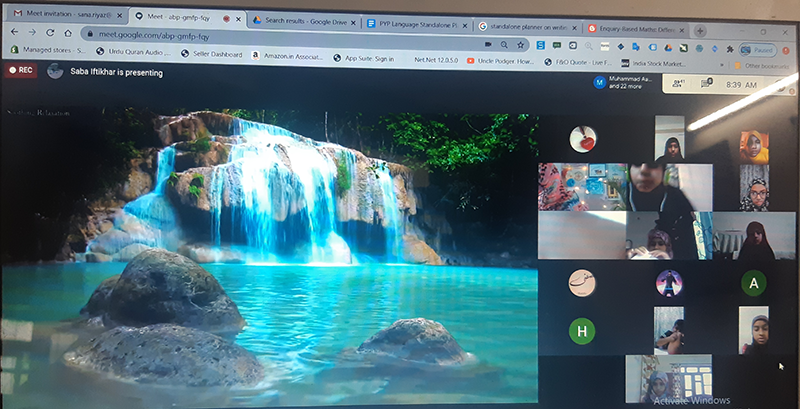 The PYP at EPS is known for its vibrant hustle and bustle. In these difficult times when the world is in the middle of fighting a pandemic, and the colours and vibrancy can't be witnessed on campus with Online distance learning: PYP is on toes with interactive live online classes, events, virtual field trips, workshops, expert talks, etc lined up for our curious learners.
On August 19, as part of the Grade 5 Wellbeing art integration, the first-ever Art therapy workshop by Saba Iftikhar was organized for students and parents. They learned how Art in itself is therapeutic and can help us relax when we are stressed out while it has proved helpful for patients who have gone through traumatic experiences and with mental illnesses like Dyslexia etc.
Students had a chance to experience relaxing doodle making and were thrilled to see a quick yet relaxing demonstration of therapeutic artwork. Their smiles and excitement showed how eager they were to have more such workshops and experiences in
the future.
Art Jugalbandi- an extravagant treat for parents and students
As a part of the Art Therapy workshop, the art competition Art Jugalbandi was organized, wherein parents and their children participated as a team. As many as 25 participants were there in the Art Jugalbandi. The judges' Saba Iftikhar, Faiza Siddiqui, and Saman Sabir had a look at the beautiful workpieces. The first prize was bagged by Afifah Hussain and Tarranum Siddique. The second prize was won by Mujtaba Hashmi and Zenab Khan. Zerah Ahmed and Saima Khan, Ahmad Khan, and AA Khan won third prize respectively. Besides, Ayesha Irfan won the appreciation award.
…And the parent says
The competition was superb, we enjoyed it a lot. It was a great opportunity for a child and their parents also. It's much fun to learn with children! Thanks, for inviting us, EPS. Saima Ahmed (Mother of Ayesha Irfan, 5 A)