EPS MISSION STATEMENT:
"EPS aims to produce eminent professionals and entrepreneurs with strong ethical foundation who could master the expanding horizons of arts, literature, science & technology to help create a justice-driven, peaceful and prosperous world through academic excellence integrated with core Islamic values."
In order to achieve this, EPSites have access to best growth opportunities through cutting-edge teaching methodology and rigorous assessment. EPS also affords a platform for physical, mental, and spiritual development for its students to become exemplary citizens with a sense of self-esteem, patriotism, compassion, and tolerance.
Thus, three E's of EPS: Education, Ethics, and Enterprise signify our Mission Statement.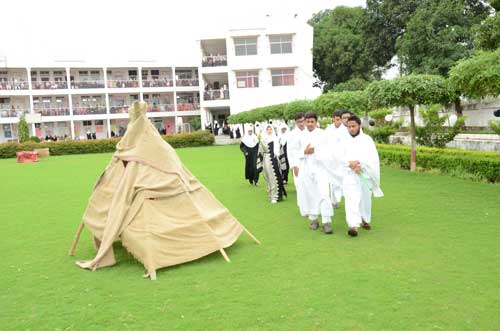 ISP Mission statement:
"To develop pedagogical material and nurture Human Resources for teaching, developing and reinforcing the middle "E" of EPS across all stakeholders. for the benefit of common humanity & shared guardianship of the planet."
Alhamdulillah- Eastern Public School is
The Only Islamic IB World School in India.
Philosophy of ISP
We focus on character because building it is the crux of our faith as – Prophet Muhammad ﷺ said"……
"Verily, the best people in Islam are those with the best character" (Musnad Ahmad)
– We don't teach Arabic as a language except whatever is required to understand obligatory Islamic teachings and practices.
We don't teach controversial fiqh (jurisprudence) related issues except what is generally required for day-to-day practices without imposing one opinion over the other.
Students and parents are free to choose their school-of-thought as long as it has sanction in the Quran & Sunnah. We strongly believe that disagreeing with someone's opinion does not give anyone the right to be disrespectful to others. This is why disrespecting other people especially people of knowledge, scholars or different sects, faiths, etc. is highly discouraged. The objective of the Islamic Studies Program is not to make the students scholars of Islam. We only endeavor to teach and nurture our students to have the best possible character.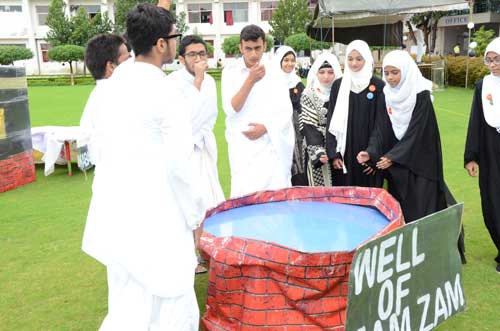 ISP Framework
Memorisation (Hifz) Of surahs from Juzz Amma i.e 30th Para, starts from Gr. Nursery and is completed by Gr.10.
Understand Quran: Short Tafseer with translation of surahs from Juzz Amma i.e 30th Para of Quran.
Islamic values:

Patience
Humility
Forgiveness
Sacrifice
Gratitude
Compassion
Generosity
Honesty
Justice

Islamic History
Islamic integration
● Project Infaq
● Hajj Training Programmes
● Khutbah Training
● Leadership training of student council
Bonding with school Community:
Parenting sessions
SLC & meetings
Staff Quranic sessions
Teachers training programs
Islamic coaching : In groups & One on one for senior students.
ISLAMIC STUDIES PROGRAM CURRICULUM OBJECTIVES:
b. QURANIC STUDIES:
1. Invocations ( Dua)
To understand Importance of invocations in daily life.
To enhance tawakkul
To Develop closeness & connection with Allah
To understand Remembrance of Allah
To learn, understand & apply in real life.
2. SURAH from Juzz Ammah
Learn & understand the appropriate method of Quran recitation.
Use of appropriate Tajweed elements in Quran recitation.
To Understand Quran – A message and guide from Allah for the whole mankind
To Understand the balance between justice and truth through Quran.
To strengthen Aqeedah by understanding the meaning & message from Quran.
To Strengthen faith in Allah, Prophe

t(ﷺ)

& Day of Judgement.
To Understand & apply in real life the lessons from Quran.