Admission at EPS
We are currently accepting applications for the 2023—24 academic year.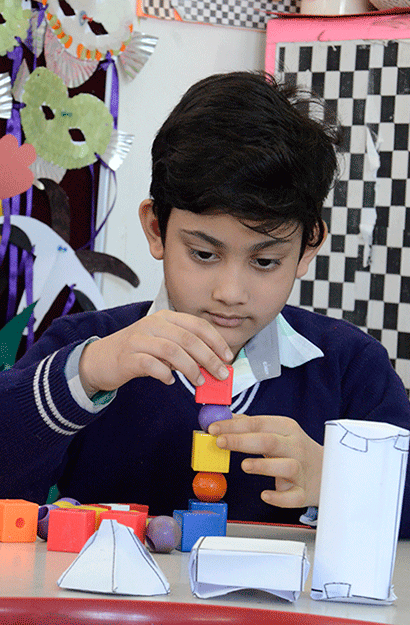 Eligibility Criteria & Process
Admission at EPS is a carefully thought-through process. We do not cater to any specific section of society or class. In line with Hadith (lifestyle and guidance of Prophet Muhammad – peace and blessings of Allah be upon him), gaining knowledge is obligatory for every Muslim man and Muslim woman. Therefore, we give equal importance to both genders. In order to preserve our core values, the final decision of admission rests solely with the school management.
The Process
Parents receive the application form and syllabus for the concerned grade. A date for competency level assessment (CLA) is announced for all grades except Nursery. The assessment copies are judged by specialist teachers, class teachers (in charge of the grade), finally by the management. After a thorough screening, the decision is based on the results and the parents' commitment and attitude. Results are declared over phone to the parents concerned within a week.
Fee Structure
PYP, Middle School & DP
Registration for admission: Rs.1500 (nonrefundable)
At the time of admission (In INR):

Classwise Fees Breakup:

Tuition fee and transportation fee is to be paid in four quarters. Tuition fee is payable for 12 months whereas the transportation fee will be charged for 11 months. Transportation fee varies depending upon the distance from school.
I Quarter- April, May, June
II Quarter- July, August, September
III Quarter- October, November, December
IV Quarter- January, February, March
For Nursery Students: Tuition fee is payable from July till March
For DP Students: In 1st Year i.e. Grade 11th – from April till March
  In 2nd Year i.e. Grade 12th – from April till May  (following year)
Transportation fee: Nursery – from July till March
    Grade 12th – from April till the end of final exams. For those who avail bus facility during exams
Account Details:- 
Account Name: EASTERN PUBLIC SCHOOL
Account Number: 50200003406761
IFSC : HDFC0000400
Account Type: Current Account
Bank: HDFC
Branch: Hamidia Road.
For any queries please contact:
Contact our Admission Officer
Visiting and Contact Hours 8:00 am to 2:00 pm